EDIT: Realized there was in fact a thread on this guy. Then again, that thread is also about 6 months old, so lock this one if you wish.
Evilswarm Ophion
DARK
Rank 4
Dragon/Xyz/Effect
2 Level 4 "lswarm" monsters
While this card is face-up on the field with Xyz Material, neither player can Special Summon Level 5 or higher monsters. Once per turn: You can detach 1 Xyz Material from this card; add 1 "Infestation" Spell or Trap Card from your Deck to your hand.
ATK/2550 DEF/1650
This guy, who we'll be getting in December, is something of the Dolkka substitute of the OCG's Rabbit decks. His continuous effect is pretty killer against decks like Hieratic, Chaos Dragon, and the occasional large monster like Megaloabyss; while its effectiveness in increasingly Xyz-heavy formats has yet to be seen, it is something to watch out for.
As for its second effect, it's more useful than you might think, especially when used with the following card:
Pandemic Contagion Infestation
Quick-Play Spell
This turn, all "lswarm" monsters you control are unaffected by the effects of other Spell and Trap Cards.
GIANT FORBIDDEN LANCE-ITIS YEAH
But how do you enable such a card? Well, we've got a few options: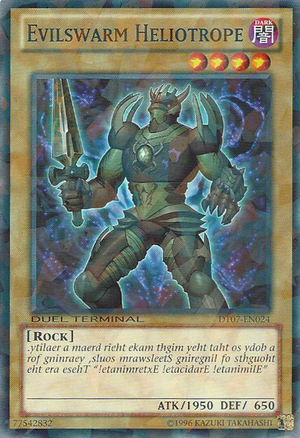 There's also the combination of
Evilswarm Castor
and
Evilswarm Thunderbird
, the latter of which is also a fairly good stun-type pick.
In fact, the majority of OCG "Dino-Rabbit" decks are closer to "Evol-swarm" decks, with the only actual support for Laggia being 3 copies of Sabersaurus.
While it seems pretty entertaining, and solves the consistency problem of current Rabbit decks to a degree, I'm unsure about its viability in a post-ABYR format. Thoughts?